Confuse Ray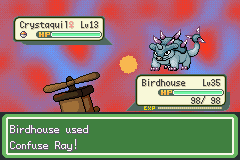 Battles
Type

 Ghost

Category

 Status

PP
 10 (max. 16)
Power
 —
Accuracy
 100%
Priority
 {{{priority}}}
Target
Foe
Foe
Self
Ally
May affect anyone but the user
Availability
Not a TM, HM or Move Tutor move.
Confuse Ray (Japanese: あやしいひかり Eerie Light) is a non-damaging Ghost-type move.
Confuse Ray causes the target to become confused. Confuse Ray will fail if the target has a substitute, is already confused, has the ability Own Tempo or is protected by Safeguard.
Description
Edit
Description
The target is exposed to a sinister ray that triggers confusion.
By leveling up
Edit
By breeding
Edit
#
Pokémon
Type
Egg Group
Father
#007
*

Ejacasm

*

Water 1

Monster

#020

Clovour

Fairy

Grass

#044

Pixila




Fairy

Bug

#049

Elephas




Field

#124

Chantruth

Human-Like

#136

Oilslam




Amorphous

Monster

#219

Embortion




Amorphous

Human-Like

#375

Skeletroll




Mineral

Amorphous

Egg moves are currently not implemented!
Pokémon marked with an asterisk (*) must have this move chain bred onto them.
Bold indicates a Pokémon gains STAB from this move.
Italics indicates a Pokémon whose evolution or alternate form receives STAB from this move.
Ad blocker interference detected!
Wikia is a free-to-use site that makes money from advertising. We have a modified experience for viewers using ad blockers

Wikia is not accessible if you've made further modifications. Remove the custom ad blocker rule(s) and the page will load as expected.