Double Kick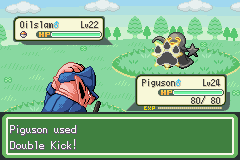 Battles
Type

 Fighting

Category

 Physical

PP
 30 (max. 48)
Power
 30
Accuracy
 100%
Priority
 {{{priority}}}

Makes contact
Affected by Protect
Not affected by Magic Coat or Magic Bounce
Not affected by Snatch
Affected by Mirror Move
Affected by King's Rock
Target
Foe
Foe
Self
Ally
May affect anyone but the user
Availability
Not a TM, HM or Move Tutor move.
Double Kick is a damage-dealing Fighting-type move
If the first strike activates the target's Focus Sash, Focus Band, or Sturdy, the second one will cause the defending Pokémon to faint. A Focus Band can still activate again to prevent fainting, but this chance is independent of the previous one.
If the target has Weak Armor, each strike will activate it.
If the target is holding a Rocky Helmet, the user is damaged for each strike.
Description
Edit
Description
Two legs are used to quickly kick the foe twice in one turn.
By leveling up
Edit
By prior evolution
Edit
#
Pokémon
Type
Egg Group
Stage
#087

Florious




Grass

Amorphous

Bold indicates a Pokémon gains STAB from this move.
Italics indicates a Pokémon whose evolution or alternate form receives STAB from this move.