Facade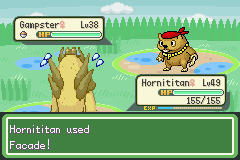 Battles
Type

 Normal

Category

 Physical

PP
 20 (max. 32)
Power
 70
Accuracy
 100%
Priority
 {{{priority}}}

Makes contact
Affected by Protect
Not affected by Magic Coat or Magic Bounce
Not affected by Snatch
Affected by Mirror Move
Not affected by King's Rock
Target
Foe
Foe
Self
Ally
May affect anyone but the user
Availability
Not a TM, HM or Move Tutor move.
Facade (Japanese: からげんき Bravado) is a damage-dealing Normal-type move.
Facade inflicts damage. Its base power doubles from 70 to 140 if the user is poisoned, paralyzed, or burned. Burn's effect of lowering the Attack stat is still applied, unless the user has Guts.
Description
Edit
Description
An attack that is boosted if user is burned, poisoned, or paralyzed.