Meteor Mash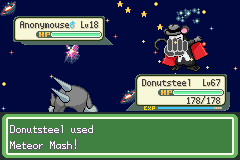 Battles
Type

 Steel

Category

 Physical

PP
 10 (max. 16)
Power
 90
Accuracy
 90%
Priority
 {{{priority}}}

Makes contact
Affected by Protect
Not affected by Magic Coat or Magic Bounce
Not affected by Snatch
Affected by Mirror Move
Affected by King's Rock
Target
Foe
Foe
Self
Ally
May affect anyone but the user
Availability
Not a TM, HM or Move Tutor move.
Meteor Mash (Japanese: コメットパンチ Comet Punch) is a damage-dealing Steel-type move.
Meteor Mash inflicts damage and has a 20% chance of raising the user's Attack stat by one stage.
Description
Edit
Description
The foe is hit with a hard, fast punch. It may also raise the user's Attack.
By leveling up
Edit
By a prior evolution
Edit