Mist Ball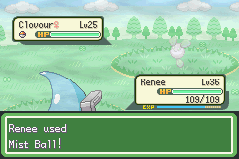 Battles
Type

 Psychic

Category

 Special

PP
 5 (max. 8)
Power
 70
Accuracy
 100%
Priority
 {{{priority}}}

Does not make contact
Affected by Protect
Not affected by Magic Coat or Magic Bounce
Not affected by Snatch
Affected by Mirror Move
Not affected by King's Rock
Target
Foe
Foe
Self
Ally
May affect any foe, but not the ally
Availability
Not a TM, HM or Move Tutor move.
Mist Ball is a damage-dealing Psychic-type move. It is the signature move of Rainglock. (Latias in the canon games.)
Mist Ball inflicts damage and has a 50% chance of lowering the target's Special Attack. It does not affect targets with Bulletproof.
Description
Edit
Description
Attacks with a flurry of down. May lower Sp. Atk.
By leveling up
Edit
#
Pokémon
Type
Egg Group
Level
#340

Rainglock

Amorphous

27

Bold indicates a Pokémon gains STAB from this move.
Italics indicates a Pokémon whose evolution or alternate form receives STAB from this move.