Strength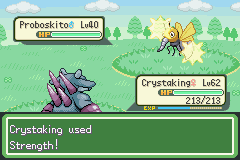 Battles
Type

 Rock

Category

 Physical

PP
 15 (max. 24)
Power
 70
Accuracy
 100%
Priority
 {{{priority}}}

Makes contact
Affected by Protect
Not affected by Magic Coat or Magic Bounce
Not affected by Snatch
Affected by Mirror Move
Not affected by King's Rock
Target
Foe
Foe
Self
Ally
May affect anyone but the user
Availability
Strength (Japanese: かいりき Super Strength) is a damage-dealing Rock-type move
In battle
Edit
Strength inflicts damage and has no secondary effect.
Outside of battle
Edit
Players can move round boulders around the field by walking into them whilst Strength is active. Many puzzles in the games require boulders to be moved around in a certain way with Strength. If the area is left, the boulders will resume their original positions and the puzzle needs to be solved again if the player wishes to go back through the area.
Description
Edit
Description
The foe is slugged at maximum power. Can also be used to move boulders.
By leveling up
Edit
#
Pokémon
Type
Egg Group
Level
#035

Muscledude

Amorphous

36

Bold indicates a Pokémon gains STAB from this move.
Italics indicates a Pokémon whose evolution or alternate form receives STAB from this move.