Surf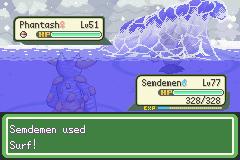 Battles
Type

 Water

Category

 Special

PP
 15 (max. 24)
Power
 90
Accuracy
 100%
Priority
 {{{priority}}}

Does not make contact
Affected by Protect
Not affected by Magic Coat or Magic Bounce
Not affected by Snatch
Affected by Mirror Move
Affected by King's Rock
Target
Foe
Foe
Self
Ally
Affects all but the user
Availability
Not a TM, HM or Move Tutor move.
Surf (Japanese: なみのり Surfing) is a damage-dealing Water-type move
Surf can hit a Pokémon during the semi-invulnerable turn of Dive, and if it does, it will have its power doubled for that Pokémon.
Surf hit all adjacent Pokémon, including allies.
Outside of battle Edit
Surf can be used outside of battle to travel over bodies of water.
Description
Edit
Description
A big wave crashes down on the foe. Can also be used for crossing water.
By leveling up
Edit
By breeding
Edit
#
Pokémon
Type
Egg Group
Father
#025

Pikotton




Fairy

Field

Egg moves are currently not implemented!
Pokémon marked with an asterisk (*) must have this move chain bred onto them.
Bold indicates a Pokémon gains STAB from this move.
Italics indicates a Pokémon whose evolution or alternate form receives STAB from this move.